Daniel "Danny" Ruskin is Patrick Jane's brother-in-law. He grew up working in the same carnival as Jane and his father and later became a con man.
Danny is the younger brother (by several years) of Angela, Jane's deceased wife. Danny has a lot of animosity toward Jane: First, for taking Angela out of his life when the two of them ran off together; and second, for getting her and Charlotte killed by taunting Red John on television, which led to them being murdered by Red John.
Danny appears in the third-season episode "Cackle-bladder Blood". One of Danny's "marks" is murdered, and Danny becomes entangled in the resulting CBI investigation.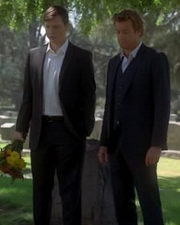 The surname Ruskin has the same meaning of Roy, alias of Red John: "red-haired one".
Ad blocker interference detected!
Wikia is a free-to-use site that makes money from advertising. We have a modified experience for viewers using ad blockers

Wikia is not accessible if you've made further modifications. Remove the custom ad blocker rule(s) and the page will load as expected.