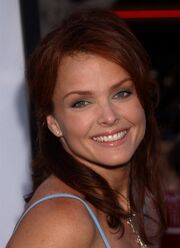 Dina Meyer is the actress who portrays Abigail Barge in Red Herring, she is best known for his roles in Saw II (with Emmanuelle Vaugier), Birds of Prey (with Brent Sexton) and Starship Troppers (with Jake Busey, Dean Norris and Anthony Ruivivar)
Ad blocker interference detected!
Wikia is a free-to-use site that makes money from advertising. We have a modified experience for viewers using ad blockers

Wikia is not accessible if you've made further modifications. Remove the custom ad blocker rule(s) and the page will load as expected.