Jason Wylie
Talk

0
722pages on
this wiki
Jason Wylie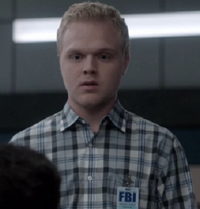 Jason Wylie is an FBI Agent in the Austin field office of the Criminal Investigative Division who specializes and deals with computers.
Biography
Edit
Wylie grew up in rural Indiana, far away from anything big or important. His mom was a schoolteacher and his father owned a garage down the street. Life was simple, maybe even boring if you asked Wylie. Because of that he spent a great deal of time with computers. At an early age, Wylie was completely outpacing the skill level of many programmers twice his age. But for Wylie it wasn't a competition, it was fun. They were fun when he beat his friends at games, fun when he pranked his friends, fun when colleges came looking for him. Computers got serious for Wylie when the FBI came asking for him. Suddenly, what he knew mattered on a very high level to powerful people. Wylie joined the FBI after graduating college in three years. He tore through the FBI Academy's courses in half the time and found himself with a choice of offices to work from. He chose Texas. Wylie knows that he can't mess this opportunity up. But he also knows that Jane, Abbott, and the rest of the team want his help and will have his back. It's a new thing having friends like Cho and Fischer but he's going to keep on doing what he's been doing. He's going to work harder than everyone else and just have fun.[1]
He has a crush on Agent Vega.
References
Edit