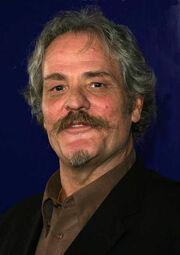 M.C. Gainey is a Character actor who plays Pete Barsocky on The Mentalist. He appears in three episodes in three seasons, his distinctive mustache, 6'2" height, and threatening look have landed him supporting roles as Southern or Southwestern thugs and criminals. He is known for playing Swamp Thing in Con Air (with Nick Chinlund, John Marshall Jones, Fredric Lehne, Jeris Lee Poindexter, Emilio Rivera, etc) and for his roles in Lost (with Brett Cullen and Henry Ian Cusick) and Justified (with Nick Searcy and David Meunier).
External links
Edit
Ad blocker interference detected!
Wikia is a free-to-use site that makes money from advertising. We have a modified experience for viewers using ad blockers

Wikia is not accessible if you've made further modifications. Remove the custom ad blocker rule(s) and the page will load as expected.