Ron Deutsch

Information
Portrayed by
Unknown (Possibly a stunt performer)
Name
Ron Deutsch
First appearance
Strawberries and Cream
Status
Deceased
Last appearance
Scarlet Ribbons
Profession
Security guard
Family
Unknown
Ron Deutsch
was a security guard who worked in a mall in California. He was also one of 
Red John
's accomplices (sometimes the fans call him "the bald cop"). After
Patrick Jane
shot and killed
Timothy Carter
, Ron rushed to the scene to see a waitress hovering over Carter's body. He intimidated the waitress into leaving by accusing her of compromising the crime scene. She ran and Ron took Timothy's gun and phone, deleting all calls.
He was murdered by Red John.
Notes by fans
Edit
It's very possible that Deutsch could be a Visualize member. If true, this actor appears as a cop, as a Visualize member and as Ron Deutsch.
Did you know that "Deutsch" is the german word for "german"?
See 'Chat' to discuss the actor who portrays him, Alex Wexo.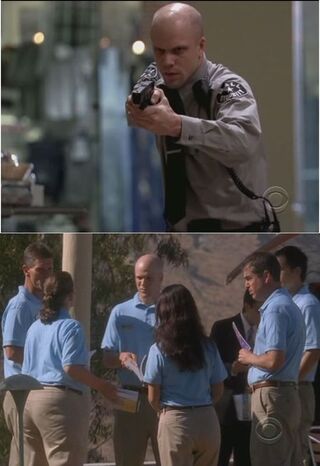 Ad blocker interference detected!
Wikia is a free-to-use site that makes money from advertising. We have a modified experience for viewers using ad blockers

Wikia is not accessible if you've made further modifications. Remove the custom ad blocker rule(s) and the page will load as expected.