Steven Wench is an FBI agent, infiltrate in Visualize to discover Bret Stiles' crimes. In fact, Stiles (and Patrick Jane) discover his status of "mole"; Stiles sent him false clues.
As "Brother Steven", he was one of the teachers in the cult. In this group, maybe, was present Red John's accomplice, Ron Deutsch.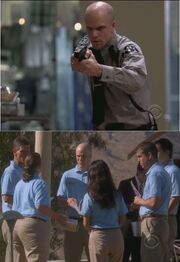 Some fans has suspect Wench to be Red John (see
Red John Theories
).
Ad blocker interference detected!
Wikia is a free-to-use site that makes money from advertising. We have a modified experience for viewers using ad blockers

Wikia is not accessible if you've made further modifications. Remove the custom ad blocker rule(s) and the page will load as expected.