Home
Talk

12
596pages on
this wiki
The Mentalist is about to be canceled, but you still can save it! We need your help urgently. Ask CBS to renew the series for a Season 7 following at least one of these steps:

Comment on the Facebook page of CBS asking to renew the series.
Join the "Hop into a Hug in a Cup" campaign. We're sending petitions directly to the CBS headquarters, but we need LOTS of volunteers yet!

The time is now or never, the cancellation could be confirmed at any moment, so spread the word and contribute as many times as you can if you want to see another season! #SaveTheMentalist!

Featured Video
Promotional clip for episode 6x18 "Forest Green"
Season 6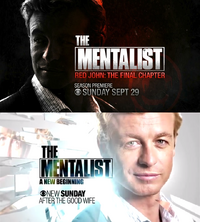 Season 6 premiered on September 29, 2013. It picked up after the cliffhanger of Red John's Rules, with Lorelei Martins telling Jane and Lisbon the list of seven suspects, of which Jane had told no one. The catch is that Lorelei was killed before Jane even narrowed down his list, and the episode ends after the intense words of Lorelei telling Jane that "I'm (Red John) going to start killing again, often. Until you catch me, or I catch you." The season kicked off with the episode, The Desert Rose. In this episode, Jane and Lisbon narrowed down the list to six suspects. This season will be serialized and the main focus is discovering the identity of Red John and how the team copes with Red John's eventual capture or death.
The Mentalist tells the story of Patrick Jane, an independent consultant with the California Bureau of Investigation (CBI), who has a remarkable track record for solving serious crimes by using his razor sharp skills of observation. He also makes frequent use of his mentalist abilities to lead witnesses or offenders into offering the actual facts of the case, as known only to them. Read More...
Random Featured Article
Wayne Rigsby
is a fictional character in the American television series,
The Mentalist
. He is portrayed by
Owain Yeoman
and is a senior agent of the fictional California Bureau of Investigation (
CBI
). He also provides expertise over arson-related cases, having had previous experience in an arson investigation unit. 
Read more…
Poll - Season 6
What do you think about the way the Red John saga ended?
See more at the Poll Archive
News
Loading RSS data...
Episode Chats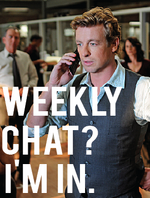 If the new season of The Mentalist has got you so excited you don't even know what to do with yourself (other than edit the Wiki, of course), we recommend stopping by our weekly episode chats.
Every Sunday night, The Mentalist Wiki hosts a rendez-vous of die-hard Mentalist-ists to discuss each new episode while it airs and even afterwards if you're too stimulated too sleep. Whether you're bored during commercial breaks or have nobody to whom you can say, "I told you they were guilty", this is the place for you!

Click Here to join the chat party every Sunday night at 10/9c!
Blogs
Create blog post
Blogs
Really, they know they have their phones tapped and yet they don't use burner phones... on top of that the girl excapes and then flags down the first…

Read more >
See more >