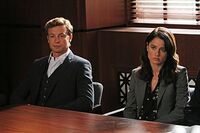 Season 5 will premiere on September 30, 2012. It will pick up after the cliffhanger of The Crimson Hat, with the episode, The Crimson Ticket. The main focus of this season is discovering the identity of Red John and figuring out what connection Lorelei Martins has to him.
The Mentalist tells the story of Patrick Jane, an independent consultant with the California Bureau of Investigation (CBI), who has a remarkable track record for solving serious crimes by using his razor sharp skills of observation. He also makes frequent use of his mentalist abilities to lead witnesses or offenders into offering the actual facts of the case, as known only to them. Read More...
Patrick Jane
is the protagonist of The Mentalist and is portrayed by
Simon Baker
. Patrick Jane is a consultant for the
California Bureau of Investigation
(CBI). He uses his keen powers of observation, deduction, and knowledge of social engineering to aid in investigations (and occasionally take the lead). Before the series started, Jane's wife and daughter were murdered by serial killer
Red John
. For the majority of Season 1, Jane is primarily motivated by his desire to find Red John and avenge his family, even though he hasn't yet succeeded.
Read more…
Who do you believe is Red John?
Loading RSS data...
Create blog post
Blogs
I just want to extend my heartfelt gratitude and appreciation to ALL the contributors of The Mentalist Wiki!It has been long overdue!At the risk of sounding cheesy..this platform has been an oasis fo…

Read more >

I stared at a blank page with just a heading for over an hour, not knowing how to start, not knowing if I should curse you or pity you. There are no words to describe the frustration I feel after 7 y…

Read more >

The ending of the Mentalist was bittersweet. It ended in perfect happiness, but it was still sad to know that as it faded to black it wasn't just the ending of another episode. The story is finally o…

Read more >
See more >