Home
Talk

19
697pages on
this wiki
Featured Video
Promotional clip for episode 6x22 "Blue Bird"
Season 6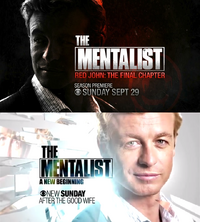 Season 6 premiered on September 29, 2013. It picked up after the cliffhanger of Red John's Rules, with Lorelei Martins telling Jane and Lisbon the list of seven suspects, of which Jane had told no one. The catch is that Lorelei was killed before Jane even narrowed down his list, and the episode ends after the intense words of Lorelei telling Jane that "I'm (Red John) going to start killing again, often. Until you catch me, or I catch you." The season kicked off with the episode, The Desert Rose. In this episode, Jane and Lisbon narrowed down the list to six suspects. This season will be serialized and the main focus is discovering the identity of Red John and how the team copes with Red John's eventual capture or death.
The Mentalist tells the story of Patrick Jane, an independent consultant with the California Bureau of Investigation (CBI), who has a remarkable track record for solving serious crimes by using his razor sharp skills of observation. He also makes frequent use of his mentalist abilities to lead witnesses or offenders into offering the actual facts of the case, as known only to them. Read More...
Random Featured Article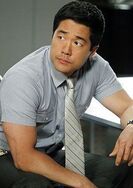 Kimball Cho
is a member of the
CBI
team, along with
Teresa Lisbon
,
Patrick Jane
,
Wayne Rigsby
and
Grace Van Pelt
. He is a very serious person who always follows cases "by the book" like
Teresa Lisbon
, as opposed to
Jane
's unique take on investigations. He mainly acts as the interrogator, because he is very persuasive and an excellent listener. He had a very beautiful girlfriend, who appeared in episode
Blood In, Blood Out
, where we learn a lot about his past. He has unsuspected skills as a ladies' man which he displays in the episode
Crimson Casanova
. He's always careful with his money and is a bit superstitious, as we see in the episode
Red Rum
. 
Read more…
Poll - Season 7
What do you most expect to see in the Season 7 of The Mentalist?
See more at the Poll Archive
News
Loading RSS data...
Episode Chats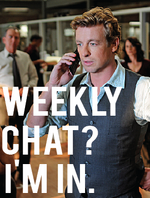 If the new season of The Mentalist has got you so excited you don't even know what to do with yourself (other than edit the Wiki, of course), we recommend stopping by our weekly episode chats.
Every Sunday night, The Mentalist Wiki hosts a rendez-vous of die-hard Mentalist-ists to discuss each new episode while it airs and even afterwards if you're too stimulated too sleep. Whether you're bored during commercial breaks or have nobody to whom you can say, "I told you they were guilty", this is the place for you!

Click Here to join the chat party every Sunday night at 10/9c!
Blogs
Create blog post
Blogs
We can all admit now that The Mentalist is ruined, right? Those seasons of over extending the Red John mystery, that HORRENDOUS conclusion to the arc…

Read more >
See more >