The Red Tattoo
Talk

0
669pages on
this wiki
The Red Tattoo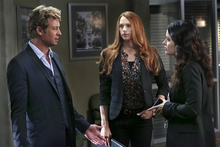 First aired
October 27, 2013
Directed by
Tawnia McKiernan
Guest-starring
Reed Diamond , Robert Picardo, Karl Sonnenberg, Beth Riesgraf, Ray Abruzzo, David Starzyk, Brian Leckner, Kirk Zipfel, Aidan Sussman, Jeff Griggs, Eric Pumphrey, Sandra Cevallos, Cuyle Carvin, Joe Nieves
The Red Tattoo is the fifth episode of the sixth season of The Mentalist.
When a publicly popular member of Visualize is mysteriously killed, Jane investigates in the hopes that the case will provide a clue that will lead him to Red John.
In this episode, we discover that Ray Haffner suffers from arachnophobia, which is the abnormal fear of spiders.
We also discover that Red John has a tattoo with three dots on his left arm.
According to Jason Cooper, Bret Stiles appears to be missing.
When Patrick tells Lisbon what Kira Tinsley told him, he says "that's my leverage". Curiously, Beth Riesgraf, who played Kira Tinsley in the episode, is best known for her portrayal of Parker on the TNT television series Leverage.